The following was written by guest contributor and HOF member AmiLi nearly two years ago and is being reposted today for those of you who may be struggling right now on MFI, or just in life in general. I continue to be inspired by her words and positivity and hope you will be too! Happy Thursday MFI!
"What an ingenious concept! How wonderful that an opportunity like MFI exists for me. I'm so thrilled!" ~AmiLi, HOF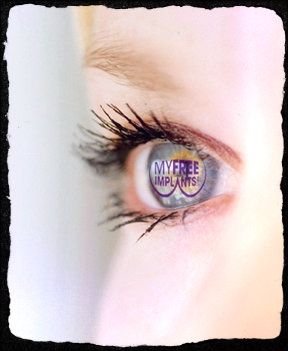 [Image Design by AmiLi, Microsoft Image]
I believe you can tell a lot about a person by the things they say and how they say them. After all, we speak what we think and what we think usually transcend to what we express.
By becoming more aware of your thoughts in this way, could possibly consequently help you become more conscious of whether or not you're thinking positively or negatively. And becoming more aware could help improve your earning experience!
There's a saying, "What you focus on expands." If you focus on what's empty in your life, you'll attract just that, emptiness.
Some examples that display positive thoughts that may be of influence towards your goal:
Optimism: Okay, so I've only earned a dollar today, that's better than nothing! And who's to say that I won't earn hundreds or even thousands in the days ahead! Anything's possible!
Belief: "This opportunity IS legit! I believe I can succeed, otherwise why would I have joined?"
Drive & Persistence: "I love MFI and being a part of the community! However long it takes, I'm not giving up!"
Happiness: "It's such a beautiful day out! I have people who love me, along w/the air in my lungs and an amazing life! And having boobs in the future will just add to the happiness that already exists in my life. Life is good!"
Hopefulness & Enthusiasm: "There are so many great people on this site whom I haven't yet connected with, who are also here for the right reasons and I look forward to meeting them. I'm super excited and I can't wait 'til I reach my goal!
Love: "Awwww, I feel so special & lucky! I'm so glad I have friends like you supporting me on here."
Gratefulness: "I'm so happy for what I've earned. Every little bit counts!"
Appreciation: "Thank you all so much to everyone who made a donation whether your contribution was large or small, along with everyone who went above & beyond in providing me with emotional support and positive reinforcement."
Avoid Negative Thoughts . . .
[Photo Slide Designs & Creativity by AmiLi, Video Link Supported by Animoto, Graphics | Microsoft]
Oct20
SaintTereasa reached her goal on September 19, 2014. It took her about 2 months to raise the $5,000 it took to get her to Hooterville. Her friends say "This woman really worked her booty off to make this and is so deserving. sweet, sexy and fun. so happy to have been able to meet this hottie!", "Tereasa is as sweet as she is beautiful plus smart and fun to boot! Take a few minutes to chat with her and you'll be mesmerized. Just treat her with the dignity and respect she deserves.", and "an amazing, gorgeous, sexy and wonderful woman and a joy to talk to! Help this girl to make her goals come true. She is worth it!".
How long have you wanted surgery?
I have wanted bigger breasts since I can remember! But especially after having children I started to get more serious about finding a way to make it happen (so about three years that I have been seriously searching for a way to make my dream come true)
Where did you hear about MFI?
I was getting desperate and started searching on google for "free boobs" and MFI was the first thing that popped up
How long did it take you?
I signed up on July 16 and I made HOF on September 19 so just a little over two months.
About how many hours per day or week did you spend on MFI?
It is hard to tell, I checked in from my phone several times per day to respond to messages and to send pics for paid messages but then I got online every night for several hours. I wanted to make sure that I was on in some shape or form for all the various time zones.
What do you think was the most successful thing you did on the site?
I only chatted with people that made donations, purchased a set or at the very least sent paid messages (like more than one, lol). I know that probably makes a lot of gentlemen frustrated but we ladies are here for a reason after all and personally I wanted to make friends while on my journey. But what do friends do? they help each other! so, I only chatted with people that I wanted to make sets for and such and in turn they wanted to help me toward my goal.
Do you have any special advice for other ladies?
My advice has to do with my answer from the previous question. Don't waste time chatting with people that will never make a donation. I met a lot of great friends and some donated a lot and some donated a little, but in the beginning I learned that there are some that will ask for a lot and never donate. It is difficult to tell in the beginning who will donate and who just will not but over time it gets easier.
Tell us about your first and last donation.
My first donation was very special to me since I was very nervous about taking pics of myself in the first place. but this person made me feel special and that he valued my friendship and then on top of that he purchased just about every set I made. I kind of have two "last" donations. The night I made HOF, someone that I had never talked to or heard from suddenly paid the last $172 (or something like that) of my goal, well, all except a dollar that he sent in a paid message. However, that last dollar in the form of a message didn't send me into HOF. The same friend that made the first donation realized the mistake and made a $5 donation that finally put me over into Hooterville! So…my first and last donation was by the same person!
How much of your total was from messages and how much from donations?
I have $1215 in paid messages and $3808 in donations totaling my goal of $5000. I cannot express how important it is to try to respond to EVERY message you get if at all possible.
When did you realize this might work for you?
I realized this might work after my first couple of chats. I was really nervous and didn't know what to expect, but after chatting with a few really good people that would ask about my day and not just go straight into something uncomfortable, I realized that this is an awesome community and I was so excited to be a part of it!
How big are you planning to go?
I am a 34A right now and plan on getting 425cc which would make me a DD.
Do your friends and family know about you and MFI?
I do have a few friends that know about MFI and a few family members. I figured I had to mention it eventually so they wouldn't be surprised when suddenly I looked a little different, lol.
What's the best thing a benefactor did for you?
The absolute best thing a benefactor did for me was donating to me for my birthday! It made me feel so special. He is in a different time zone so he waited til midnight his time (which was my official bday in his time zone) and right on the stroke of twelve he made a pretty sizeable donation. The other thing that the same person did was random donations. That was the best, not only because they were a surprise but because they weren't associated with anything sexual or "naughty" they were just because and that made me feel like he was a true friend wanting to see me succeed. There are a few other benefactors that were special to me and they would purchase EVERY set I made! It didn't matter how much it was or if it was good or bad, they just wanted to support me! That is an awesome feeling!
What was your favorite moment during your time on MFI?
hmmmm….I guess that would have to be when I got HOF! I was chatting with a friend and he was the one that noticed it, and announced that I had made HOF and I was trying to contain my excitement but as soon as we signed off I was doing a little happy dance!!!
Was there anyone who you took inspiration from on your trip to the Hall of Fame? You don't have to name names.
For sure the person who PIFed me, workinghard12! and any other lady I saw make it to the HOF, just knowing that people were making to HOF almost every day showed me that there was a pot of gold at the end of the rainbow!
Has being on MFI made any difference in your life besides breasts and time?
Yes!!!! I know everyone will say MFI gave them confidence in reaction to this question but it is soooo true! I walked taller, held my head higher, and just felt better about myself all around! I even became a more effective supervisor as a result of having more confidence! It is amazing what happens when you FEEL sexy. It sounds so shallow, but it truly made a difference in how I interacted with everyone in my life.
Would you recommend it for a friend?
I know MFI can be viewed as controversial but it really is what you make it! as long as you are comfortable and stay in your comfort zone then I would recommend the site to any of my friends, male or female!
Which lady are you rooting for to succeed next?
Well, I am PIFing LisaClaire so i am rooting for her to be in HOF!
What new feature would you most like to see on MFI?
I know everyone says this but I think MFI needs a mobile app!
If you could tell the benefactors here one thing, what would it be?
Another cliché answer like the one above but I want to say THANK YOU! Not just for the funds but for believing in me and making me feel like I was worth being in front of a camera
What's the first piece of lingerie you plan to purchase when you get your new breasts?
hmmmm…that is a good question! I like the silky night gown type lingerie b/c it just is simple yet it clings to the body so I may choose that and plus I just want to see my self in all the different "outfits" that I already have.
Bonus Questions
What question would you like me to ask the next person to make the Hall of Fame?
How has MFI impacted your sex life?
What feature do you think would encourage more guys to join the site and what changes would encourage them to stay?
I guess more advertising, there are not many men in my area of the U.S. that have heard of MFI. and for men to stay then chat needs to improve, lol
I had sooo many men asking me to move to another site for chat so that it would not have so many problems. I did not move to another site but I could not believe how many people would ask me to knowing that it was a risk.
Is there anything else you'd like to add?<
Mostly just THANK YOU! thank you to the benefactors and to the site creators! I cannot say it enough but thank you for a dream come true!
Happy Saturday!
[ From: huffingtonpost.com ]
The latest hit at Japanese parties! These $5,000 latex dolls serve up nipple drinks when you squeeze the other boob. You can watch how creepy it is in the video below. Warning: NSFW!
[ From: gizmodo.com ]
Well, not exactly, but you can drink out of a champagne glass molded from her left breast. Close enough!
Supermodel Kate Moss launched the new glasses at an intimate party in London on Wednesday to celebrate her 25 years in the fashion industry.
Moss was fitted for the coupe, which is a shallow bowl-like stemmed glass (an alternative to the standard flute), in August.
"British artist Jane McAdam Freud designed the glasses, which were inspired by Marie Antoinette — legend has it that the first Champagne coupe in the 18th century was modelled from the royal's left bosom," The New York Post reports.
"I was excited to participate in this project, what an honour to be alongside Marie Antoinette — she was a very intriguing and mischievous character," Moss told Vogue UK. "Champagne is always associated with celebration and happy occasions, and I had fun creating this beautiful coupe."
Kate's brea– err, coupes are currently being served up at 4 up-market London restaurants — 34, The Ivy, Daphne's, and Scott's, for anyone hoping to cop a feel.
[ From: news.com.au ]